Your professional real estate agency for Munich area.
Values.
Valuable real estate is in the best hands with us. We are more than a real estate agent. We stand for: responsibility, honesty, transparency. These three core values shape our daily actions. They were the main reason for founding our company. Values make the difference – not only when it comes to valuing your property correctly.
Sustainability.
We maintain long-term relationship. Invest in strong partnerships. Accompany our customers as consultants even after the notary appointment. And even further: We invest at least 1% of our annual turnover in charitable projects, e.g. tree plantings. This is sustainability out of conviction.
Mediation.
Despite all the digitalization: A house sale or apartment sale will still take place from person to person. Of course, it is also about the property. But above all, it's about: people. We respond to your individual situation. As a problem solver, caretaker, consultant. As a human mediator.
Our service portfolio: creating add-on values for your real estate transaction.
Thanks to our strong education, focused market knowledge and a high level of commitment, we offer much more than a rough real estate valuation after five clicks. We create a a proper valuation booklet individually for your property. You want more? Great, because we include personal advice on maximizing your sales price.
marketing – Spotlight-style
Your property is special. We put it in the spotlight in the most appealing way. Professional. Multimedial. Emotional. 3D-tours and drone-shots, dedicated landing pages, home staging. We use our expertise and our network of experts to make your apartment or house shine bright. Ready for the cover of our in-house Iconic magazine.
sELLING real estate in munich
We have set the right price, prepared perfect marketing materials. Now it's about to close the deal. Finding a buyer in a sellers market is easy. But selecting the right buyer is a different cup of tea! We are experienced with international deals, bidding process and secret sale – if relevant. We have sucessfully closed many real estate transactions. And now we are ready for yours!
Your Munich real estate agent.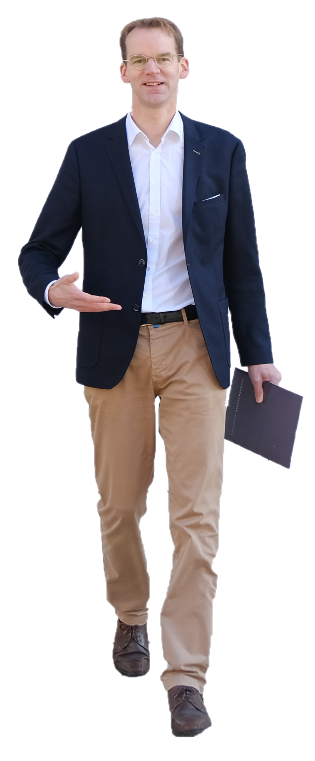 I set very high standards for myself and my job – this has a noticeable effect on my customers and the houses or apartments I take care of. My definition of success is simple: happy customers. Within short time, I've managed to be recognized as one of the top real estate agents in the greater Munich area.
Heiko Kaufmann, Founder, Owner, Real Estate Agent
Certified real estate agent (private and commercial licence for Germany)

Since 2012 active on Munich real estate market.

Very strong network – local (Munich), national (Germany), international (Americas, Asia, Middle East).

High dedication, creativity and motivation.

Father of two kids, Ex-football-coach and avid tennis player, stayed 5 years in Americas and Asia
… and more. Contact me to find out!

Feel free to contact me directly or use the form. I'm looking forward hearing from you!
Our mission: exciting customers.
We go out the extra mile to ensure premium customer service. After each transaction, we collect feedback. It is great to get praises. But we want to learn and improve constantly. To maintain our position as top real estate agent in Munich area.

A true 5*-service! Thanks again to Mr Kaufmann für the detailed evaluation and consultation regarding my aparment here in Herzogpark.
Stefanie S., Munich Bogenhausen
Feedback received on nebenan.de
Very professional real estate expert! […] Also very friendly and helpful. […] Thank you very much, Mr Kaufmann, for your great support and service!
Roya Y., Munich Haidhausen
Feedback received on Google
I have received a free of charge real estate valuation of an apartment in Munich, which I have inherited. It was very detailed and helpful. Additionally very competent and helpful advice.
Feedback received on 11880.com